How Happy Was the Brightpod Team Last Month?
04 Mar 2013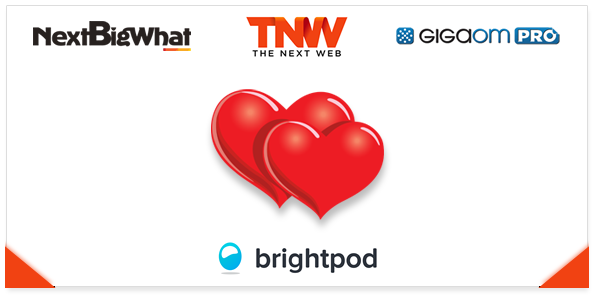 February was a busy month for all of us here at Brightpod. Honestly, which month isn't? We made many updates to Brightpod. We deploy code on a daily basis. We told ourselves that we are not going to be playing the feature game. What we are going to focus on is just one thing: whether people love using out software the way it is today. Another question we keep asking ourselves is — "Can we help improve the way people work and manage their digital marketing campaigns?"
Soon came in the reviews from top technology blogs. This put a smile on our face and gave a sense of achievement — it is always good to hear good things about your product from other people. After putting in so much work for 10 months we were hungry for feedback.
Stowe Boyd of GigaOm Pro, in his post Brightpod is a small and simple work media tool worth looking at mentioned…
"Brightpod is a new small and simple work media application that delivers minimum functionality with maximum simplicity. It could be a textbook example for the minimum viable product, in a clean and intuitive design."
Abhimanyu Ghoshal of TheNextWeb, in his article Synage Software's Brightpod, a collaboration app for digital marketers, readies for launch mentioned…
"Using Brightpod is dead simple and doesn't need much time to get used to. It's a great tool to cut down on all the confusion and clutter caused by long email chains while working with teams and clients on the same project. Plus, its neat and clean UI is a joy to use. I manage a handful of social media accounts for clients, and would love to be able to reroute all their correspondence through Brightpod to make things easier."
Ashish Sinha of NextBigWhat, in his article BrightPod Brings a Bright Perspective to Task Management for Digital Marketers mentioned…
"Well, the answer lies in the very fact that most of the project management tools are designed for generic use-cases and configuring them to match your requirement is a tough task. What BrightPod brings to the table is a super simplified user experience — apart from the fact that the product is simple to use (even marketers can use it!) as opposed to others like Asana which are mostly meant for tech community."
And then there was some love from people on Twitter…
https://twitter.com/sahilparikh/status/307119328321490945
https://twitter.com/sameergshah/status/306058952783835136
https://twitter.com/Ashwin\_d/status/305997434025295873
https://twitter.com/harshilkaria/status/299583577509724160
https://twitter.com/SinghBasant/status/298692489508962304
March will be even bigger!
---